The three fishes / Die drei Fische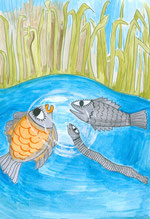 Once upon a time there was a pond that was watered by many streams. Mr. Eel-Fish, Mrs. Trout and Mr. Gold-Fish lived in this pond with their families and many other fishes. They lived there happily, because the pond was rather isolated and protected from the many fishermen. One evening Mr. Eel-Fish overheard two fishermen saying that they were going to fish in their pond on the next day. He warned his friends immediately. He decided to leave the pond that very moment, taking his family with him. Mrs. Trout wanted to sleep over the problem and Mr. Gold-Fish believed in fate and believed firmly that neither he nor his family would come to any harm. On the next day when Mrs. Trout saw the fishermen coming, she swam out of the pond through the streams with her children in a flash. Mr. Gold-Fish stayed back only to be caught in the nets of the fishermen.
Es war einmal ein Teich, der durch viele Bäche gespeist wurde. In diesem Teich lebten Herr Aalfisch, Frau Forelle und Herr Goldfisch mit ihren Familien und vielen anderen Fischen. Sie waren glücklich, weil der Teich etwas abgelegen und sehr geschützt vor Fischern war. Doch an einem Abend hörte Herr Aalfisch, wie zwei Fischer sich darüber unterhielten, dass sie am nächsten Tag in ihrem Teich angeln wollten. Er warnte sofort seine Freunde und entschloss sich, augenblicklich mit seiner Familie den Teich zu verlassen. Frau Forelle wollte erst die Nacht verstreichen lassen und über das Problem nachdenken, und Herr Goldfisch glaubte an seinem Schicksal und fest daran, dass weder er noch seine Familie gefangen würden. Doch als am nächsten Morgen Frau Forelle sah, wie die Fischer mit ihren Netzen zum Teich kamen, nahm sie ihre Kinder und schwamm über die Bäche blitzschnell raus aus dem Teich. Herr Goldfisch blieb zurück und wurde im Netz der Fischer gefangen.